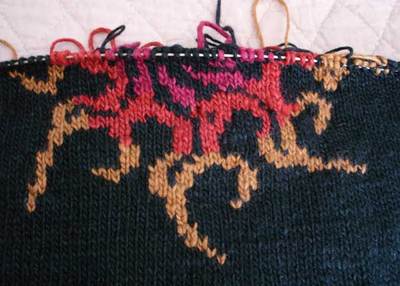 Alright…I'm halfway through the motif and I *still* love it. The colors are blending the way I had hoped, and you can actually make out the motif. I was worried it would look like a blob of color.
Considering I cast on last Sunday and travelled for work a few days this week, I'm making nice progress. I'm
almost to the armholes
.
There are a couple of tight spots before I'll be completely convinced this is going to work out. I need to come up with good armhole shaping (I'm doing set-in sleeves) and I don't want to have to rip it because I can only imagine that ripping intarsia
is bad
.
I also have to get the neckline to work with the motif. I was going to do a V neck but the motif is so high that I couldn't make it work right (I suppose that might have something to do with my 5'2″ height as well). So instead I'm going with a rounded neck with a slit (somewhat V neck, and still very casual). Probably rolled like the hem.