Last time I wrote about this top I said I wanted to get it done in time to wear for spring.
Well, last week it was in the 90s — hot and humid — all week. I had the week off of work and thought I'd do a few days of yard work and then several days of knititng.
No such luck. I didn't get to knit until yesterday.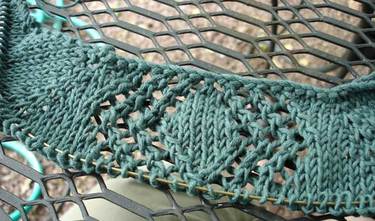 Looks a little different, right?
I frogged the one I had going. The lace just wasn't right. Instead, I went with a diamond motif. The beginning of the diamond follows the line of the raglan — a little design element I really like. I wish I could claim great planning, but really, it wasn't until I started knitting that I realized how well it all lined up.
Here's the neckline. I'm going for a wide V.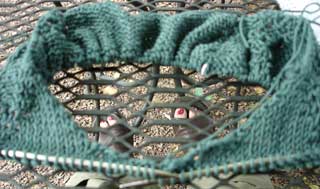 I'm considering working a single smaller diamond where the V connects. I think I'll have to try it out and see. It might be a little too low for a few eyelets.
The neck edge will need some sort of knitted/crocheted edge to look tidy and lay properly. I'll figure that out when more of the top is done. Maybe an eyelet? Maybe some single crochet followed by reverse single crochet? I'm not really sure.
One thing I am certain of though — I still love this yarn. It reacts really well to frogging, and is knitting up quite nicely at 4 SPI, even though its stated gauge is 4.5-5 SPI. I went with the larger gauge to lighten it up some more. I usually go the opposite way and knit something tighter than normal so this could all still backfire. My hope is that the larger gauge will be a little more open and therefore lighterweight.
If I need to wear a tank underneath it I'll be fine with that.
And if I have to frog this top again, I'll be
less
fine with that. Because, damnit, I want to wear this thing!
Countdown – 2 weeks and 4 days til first day of summer.