No matter how great a design is, I always need to make some mods to make it fit my body and style preferences.
The biggest mod I'm planning is to change the sleeve type. Arwen's sleeve is knit together with the body. Something like this.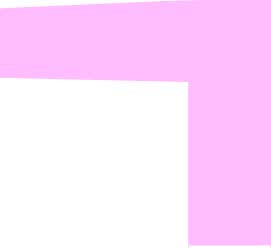 At first I was excited to try out a new sleeve type, but after thinking about it, this sleeve will not work well for me.
Let's take a look at a traditional set-in sleeve.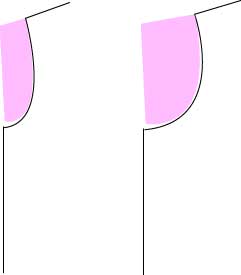 On the left, a pretty standard armhole for a set-in sleeve. On the right, what my armhole looks like.
When you're busty, you have more stitches to decrease before you get to the shoulder width. See the difference in the widths of the pink shading?
So, let's go back to the Arwen sleeve.
At first I thought I'd add a dart between the arm and the body, to ease in the additional fabric under the arm. Like this: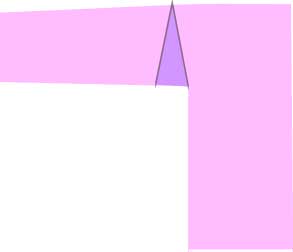 I think it will work, but I'd have to play around with the numbers, and possibly buy some cheap knit fabric and cut it up as a sample first.
I've been doing a lot of futzing around with design elements lately. So I'm feeling lazy.
Instead, I'm going with my tried and true raglan sleeve. I know I can make it work, and it gives me an excuse to write up a tutorial on how to create the right raglan for your body.
There are 2 or 3 other mods that I'm planning:
Lengthen the body.
Add a closure — probably a zipper .
Add in some body shaping. I'm not sure if I'll do short rows at the bust, or waist shaping, or a little of both. But just like I would need to add in some shaping to bridge the size differences between my body circumference at the armhole and shoulders, I need to bridge the difference between my hips, waist and bust.
I want to stress though, there is no problem with the pattern as written. These are mods for my body, so it will fit my proportions and style preferences.
In fact, a really nice feature about this sweater is that modifying its width or length is super-simple. It's a great sweater if you want to ease yourself into modifying a pattern to fit your body.
If you're between sizes and want a more custom fit, you can cast on a few less or more stitches and get just the width you want. Since you don't have to worry about armhole sizing, you don't need to plan for how to deal with those extra stitches when you get to that point.