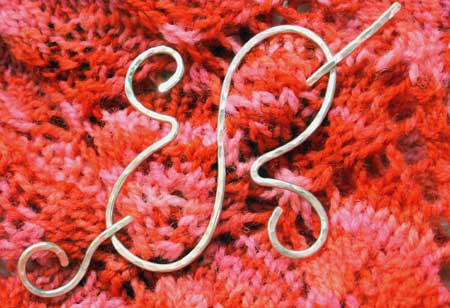 My latest purchase — the Sterling Silver Waves and Swirls Shawl Pin from Chrissy at
Scotts Mountain Crafts on Etsy
.
I had wanted to get a shawl pin at Rhinebeck, but nothing did the trick. After starting
Botanica
this past weekend I knew I'd have to find something soon.
I've been meaning to buy something at Etsy — supporting small business crafts seems like such a good thing to do. Plus, the chance of getting something unusual or unique is so much greater. I liked Chrissy's work, and I placed a order of Saturday. She's very easy to work with and she responds quickly. I requested a special order at 7 AM on Saturday and by 8:30 AM we had a conversation and my order was placed. My pin arrived today and it was exactly what I expected.
The quality of the pin is superb — no burrs, no sharp edges, but it's still lightweight so it doesn't weigh down the shawl. It's obvious it's made by a knitter. I love how the hammered look and how it bows out ever so slightly.
Her prices are very reasonable too. With the holidays coming up, this would be a great gift for a fellow knitter, or a great add-on if you're making a shawl for someone else.
I'm already deciding what I might put on my wish list.