This ended up being a very quick little project.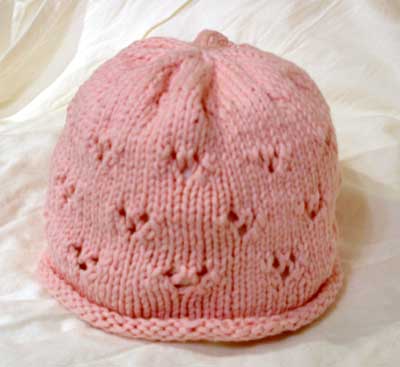 Specs:
Yarn
Rowan Calmer, about 150 yards
Needles
5.5mm Knit Picks Options
Pattern
Chemo Cap from
Knitting for Peace
Thoughts & Mods
My favorite part of the hat is the
spiral top
. I'm a sucker for a spiral top hat.
The pattern called for sport weight yarn so I adjusted for gauge. I CO 80 sts for a size small. I played it safe and made the small because the pattern called for 200 yards and a ball of Calmer only has 175. In the end I had 10 grams (approx 35 yards) left. I have a few more single balls of Calmer in my stash, so next time I'll make a bigger size.
I reversed the direction of the decreases and decreased
into
the YOs. So, for the single eyelet I did ssk, yo. And for the double eyelet I did ssk, yo, k1, yo, k2tog. I dislike the asymmetry of doing a k2tog before the YOs because it creates a line on the right side slanting up and to the right, but no complimentary line on the left. I was concerned that the eyelets would be misshapen but they're not. It's a small difference but I like it, and I plan to incorporate it in other similar eyelet patterns.
I had read somewhere that most cotton yarns shrink by 20% in length if you dry them. Since I wanted this cap to be easy care I knitted it 20% longer and then laundered it inside out. The yarn fluffed up really nicely and its finished measurements are right on.
I don't know what it is about Calmer but I have a lot of trouble knitting with it. No matter what type of needle I try it seems to stick, and I have to use a larger needle just to get gauge. This is the only yarn I've ever had this problem with, and it's stayed with me for almost 3 years now. I love the finished product but I'm unsure I'd be able to knit up a full sweater with it. A hat wasn't a big deal, but a sweater would take some effort.
The hat is what I had hoped for — simple, soft, and easy care. I'm happy to make this knit for charity my first FO of the year.