So, I finished the bodice on Heidi and decided to knit the neck edging so I could feel how it fit without the pins. I went with a frilly ruffle for the edge. Fun and girly, and also — over 800 stitches to bind off! But I got through it and the ruffle came together really nicely in the linen. It's dense — almost like crochet — and stands up really well.
I was antsy to get the feeling of the top once it was all washed though, so I ran it through a full wash and dry cycle. Truthfully, I was concerned about shrinkage even though I had prewashed the yarn. I'd rather know now that I had to add more length than once I was all done.
Well, I had no worried about shrinkage folks. Here's what Heidi looks like after her latest wash and dry (on top of Somewhat Cowl for scale).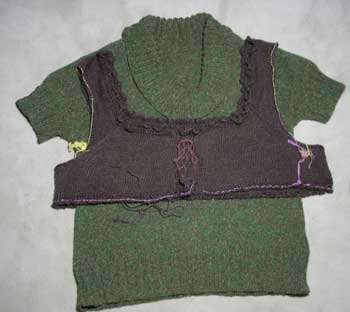 Uhm, yeah…a little big wouldn't you say? Can you believe it fit
like this
before it was washed?
The yarn feels awesome, but the gauge is totally wrong now. The top as knitted is not salvageable. So, I'm going to scrap what I've knit so far and find another yarn for Heidi.
I love the texture of the yarn though so I do think I'll do something with it in the future. For now though, the yarn and I will be taking a much-needed break. And if you're surprised I'm taking this so casually it's because I've had close to a week to accept it before writing this post. Believe me — I was damn annoyed when I took it out of the dryer last week!
So, I need to find another yarn. The ones I've been considering are:
I'm more excited about the first 2 (Cotton Classic or Esprit) but really, I'm not convinced about any of them yet. I think my ideal yarn would be a DK weight All Seasons Cotton. I'm sure they exist — any suggestions?
More from savannahchik.com