My Interweave Knits Winter 2006 issue was in my mailbox this evening.
The quick scoop:
This issue is heavy. There's a whole lotta projects in there!
Like always, even though I saw the preview, I'm so much more excited after flipping through the magazine itself.
Favorite Project – Kate's A Cardigan for Arwen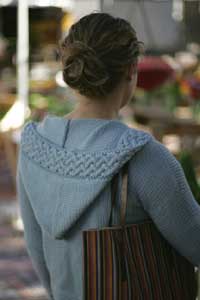 This project has so many things going for it.
It's clever with its reversible cable along the front and around the hood.
Its namesake is one of my favorie LOTR characters.
Its hood is pointy in a playful sorta way.
It's a cardi so it's great for layering.
It's versatile and will be as nice paired with khakis at work, or with jeans and a t-shirt for running errands.
Remember when I said I might not knit another sweater this year? Well, I'm seeing me knitting this very soon in a vibrant sapphire blue.
Added Later: About 20 minutes after I wrote this post, I came across NaKniSweMo — National Knit a Sweater Month. I don't have to tell you that I've been looking online at yarns since then, do I?