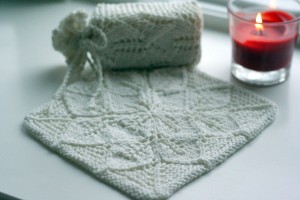 I swore off Christmas gift knitting years ago – and I went about my life just fine.
Merry even.
But then Rosemary Hill released the Silvermist Bath Set and I couldn't resist – it'd be perfect for my mom.  It had to be knit.
I knitted on it a bit for a few nights and had this lovely washcloth.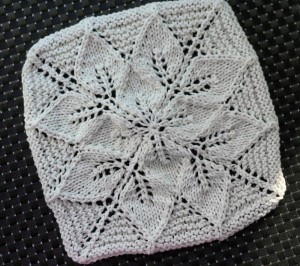 And then a few more days and I had this cute little soap sack.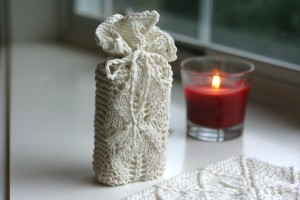 I think it was more work to find a soap I liked.  I went to five stores before I found something that would work – right size, nice smell, no additives.  Mom deserves the good stuff.  This one is Lemon Verbena.
I washed and dried the washcloth in hot water in case mom actually uses it.  Then I used a steamer to get rid of the rippley egg crates.  Knowing mom it will stay out on the vanity and never get a moment of actual use.  She wouldn't want to  hurt it after all.
Love that woman.
Either way, I hope it makes her feel loved and cared for every time she looks at it.
Merry Christmas mom.